Welcome to the Challenger of the Day Website
Thank you for visiting ChallengeroftheDay.com
Hey, a little Challenger never hurt 'nobody! I grew up in the Bronx in the '70's and Muscle Cars were all around me well into the '80's. My older brother would take me to the bicycle shop so we could buy little cars picked out from the Matchbox and Hot Wheels displays. In time I took my younger brother to do the same. Cars of all sizes became very cool to me in their own way and on their own scale, especially Muscle Cars!
I started a blog and website in 2012 to showcase the die cast Challengers and the full scale Challengers they were based on. My dream was to take and post a picture of a Challenger every day and share some of the smiles that it brought to me with the world. My original goal has always been to make people smile. Challengeroftheday.com is a vehicle to make this happen.
Every day is a Challenger Convention for me. I love taking photos of full size cars and scaled down versions. I try to capture the essence of the cars I am photographing - no matter what size. I want to capture the joy I feel and share it. I want to make people as happy looking at the pictures as I am taking them.
I love life and appreciate how fortunate I am. I have been able to make a lot of people smile since I landed in the driver's seat of my 2011 Dodge Challenger. I've also made some really great friends as a result of the Challenger connection to a shared passion. Not just a shared passion for Muscle Cars either but for the secret power they represent. The power to make people smile!
Click to Learn More About Challenger Joe
Dodge Challenger R/T Snow Drifter!!! Scene from 'Frosted Flakes HD' (The Next Best Angle)
For the Sequel to Frosted Donuts..I did 5 donuts i think. Not as dizzy this time..but dizzy. My car mounted action cam ran out of memory and had a great angle too. Next time! Still got some great 4 camera footage to edit down. This scene though...couldn't wait to share! Not sure why this posted at lower quality but gives you another reason to watch the Movie!
Challenger Joe Featured In Mopar Magazine
Check out the article in Mopar Magazine, featuring Challenger Joe!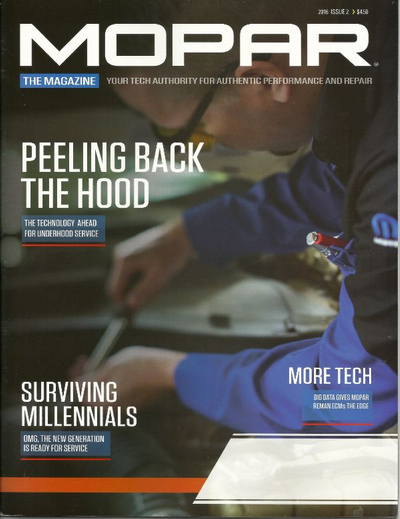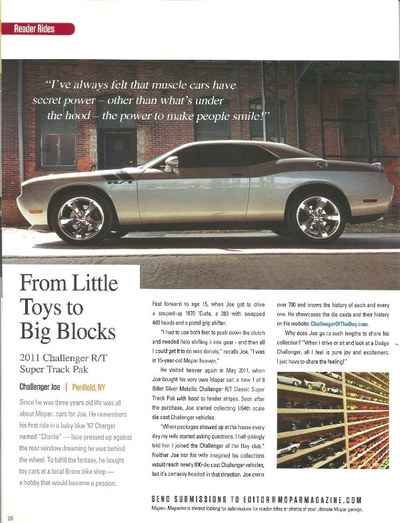 Check out the latest from the Challenger of the Day Blog
What's Your Challenger Story? Everyday brings new Challengers and we want to feature your Challenger story on our blog! Think you have the NEXT Challenger of the Day?