Subscribe to the Challenger of the Day Newsletter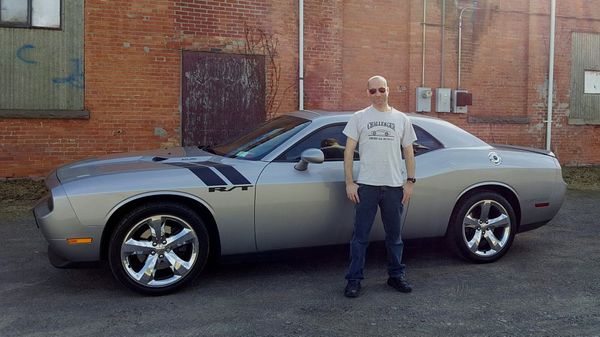 Every Day Brings New Challengers. At Least That's How I Heard It!
I am drawn to those with Challenges. I always have been. I have had severely debilitating migraines most of my life and I always identified with others who were special. Everyone has there own challenges it's just not always so easy to notice. I see in others what makes us similar. Everyone is special. When we focus on what we have in common our differences fade into the background.
My first Muscle Car was a light blue 66 & 1/2 Charger I rode in the back of as a three year old. I remember looking out the big rear window and steering with my hands as the world pulled away from me. I thought I was driving. I remember so much from when I was a kid like it was just yesterday. I live everyday with a smile now. I am blessed with so much. When I was four years old someone asked me what I wanted to be when I grew up. I replied 'The happiest person in the world'. I love life and appreciate how fortunate I am. I have been able to make a lot of people smile and made some really great friends as a result of the connection to a shared passion. Not just for Die cast cars & Muscle Cars but for the secret power they represent. The power to make people smile!
In May of 2011 I made the decision to purchase a Dodge Challenger. I had lost my Dad and my Father-in-law within a few years of each other and life just seemed too short. So I fell into the driver's seat of my Billet Silver Metallic Challenger R/T. 1 of only 9 made with the Classic package, Super Track Pak and factory hood to fender stripes. A lifelong dream came true that summer. I was making myself and other people smile. I was on top of the world!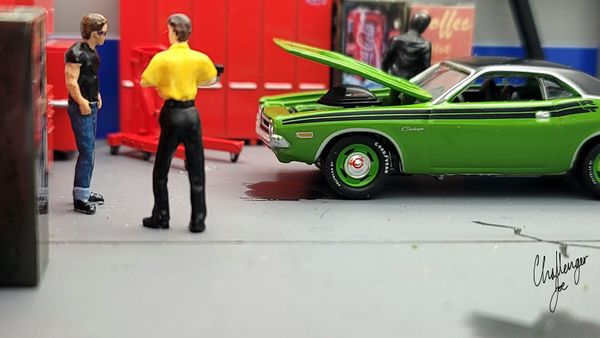 I injured myself requiring spinal surgery at the end of 2011. It was six months after I had purchased my 2011 Dodge Challenger. Pieces of a disc were embedded in my spinal cord and I was told I would be a quadriplegic on a ventilator if I did not approve a Fusion surgery. I could not say no and the surgeon replaced my bad disc with a donor bone. Someone who I never met had become an organ donor and now was a part of me. I knew I would forever stand for the Unknown Fallen. I became involved with Donate Life New York State and I always ask others to do as I have and become an organ donor. Because you never know who around you is already a recipient and there is no greater gift a person can give in this world. It is the gift of a Lifetime.
I had two more surgeries, including one more donor bone, by the summer of 2014. I spent many months in and out of a neck brace and started a small collection of die cast Challengers. When packages began showing up daily my wife asked me what was going on. I told her, half jokingly, that I had joined a club and it was the 'Challenger of the day' club and they would deliver a new Challenger for every day of the year. I knew she didn't even half-believe me. But she put up with me. Shortly after, I began to realize the joy of opening and taking out of the package a new die cast car every day. Some of them were over twenty years old and still in the package waiting to be released by one person. One lucky person – Me!
Hey, a little Challenger never hurt nobody!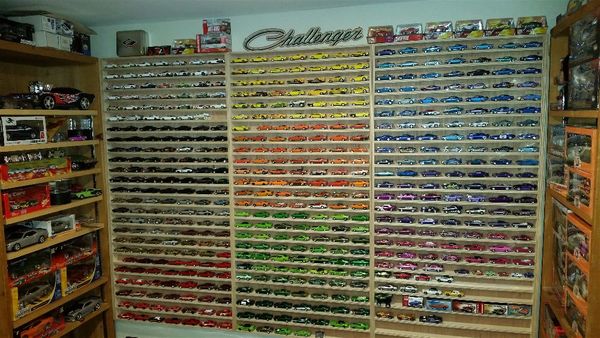 I started a blog called Every Day Brings New Challengers, at ChallengeroftheDay.com, solely for the purpose of sharing what brings great joy to me. I wanted to take and post a picture of a Challenger every day, each time I opened one actually, and share some of the smiles that it brought to me with the world. Throughout the years I had a lot of days where I needed a smile and Challengers always came through for me. Now I have close to one thousand little Challengers. Joy is all I ever feel when I open a new die cast or sit or drive in mine, or even just stare at any scale version. Every day has become a Challenger Convention. I love taking photos of full size cars and the scaled down models. I try to capture the essence of the cars I am photographing and share the joy I feel. My goal is to make people smile and as happy looking at the pictures as I am taking them. Challenger of the Day is one of my 'vehicles' to make it happen and now I feature other Challenger owners and what makes them smile too! In September of 2019 I upgraded to a 2019 Dodge Challenger R/T Scat Pack and I am smiling more than ever!
Every day brings new Challengers. At least that's how I heard it!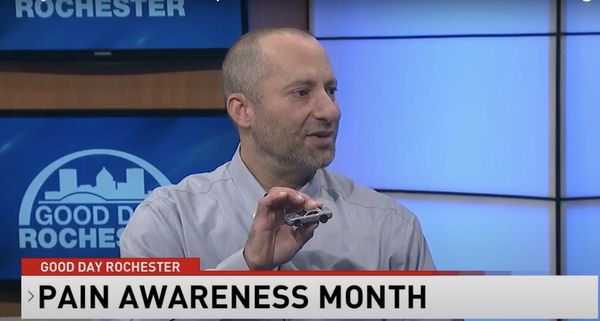 There is so much negative in all of the media, I think people need positive more than ever. So one of my dream goals is to make a 'Self Replicating Smile Generator' for the world. Using photos I love taking in an effort to share a pure feeling of joy. Everyone has his or her own daily challenges. At the end of the day I only count my blessings. Size is a matter of perspective and perspective is adjustable. The scope of any problem can always be made better with perspective. Life is not about having the best of everything it's about making the best of everything you have.
I face my own daily challenges with little Challengers and it's worked better for me than any medicine or therapy. I need to smile every day and it is not often easy to do. So, I'm doing it for me as well as for others. If you can't smile for yourself you have to try to smile for the ones you love. Despite the challenges I am still aware that, at times, I have 'favor'. I know I am meant to share it and help people I don't know feel better. I view life from an adjustable perspective. I am blessed to be alive and I believe I am here for a reason and a higher purpose. I know part of it is to make the World smile - one soul at a time. Every smile lessens the sum total of suffering in the world.
Please watch the Challenger Joe Interview on Good Day Rochester!
The latest from the Challenger of the Day blog.